Full suspension bikes are the ones that use suspension forks both for the front and the rear wheels. Other variants use only a suspension fork, and that makes a lot of difference.
Usually, it is quite a challenge to find the best budget full suspension mountain bike because, in general, they are quite expensive because of the extra components.
So, here's a list of the best full suspension mountain bikes under 500 to help you choose the best one. We tried every bike mentioned below and made the best of the best list for you.
Best Full Suspension Mountain Bikes Under $500: Our Top Choices
Best Full Suspension Mountain Bikes Under 500
This is one of the best full suspension mountain bikes under 500, and it is here to stay. A mountain bike loaded with features in such cost-effective pricing is incredible if you ask us. This bike is suitable for all your day-to-day commute and is better than many of its competitors for a variety of reasons.    
This bike comes with dual suspension as it is expected. The smoothness with which riders enjoy this bike is also worth complimenting every bit of it. Double suspensions are known to provide you with a jolt and jerk-free road experience, and this bike delivers it perfectly. 
This piece of art comes with 'Shimano' derailleurs and shifters for extremely smooth gear shifting and 26-inch tires for a good grip of the road. Not only is Shimano known to provide seamless shifting of gears but is one of the best derailleurs when it comes to reliability even in the toughest of road conditions. 
One of the few reasons for this bike to feature in the best budget full suspension mountain bike list is because of its use of components. This bike uses linear-pull brakes, which help in sudden and quick halting or speed reduction capabilities. The braking system in a bike is one of the key features, and you can trust us on this one.
This bike comes with a 330 lbs weight capacity and one year manufacturer's warranty. 
Pros
Gear shifting is smooth courtesy Shimano.

Cost-Effective

Jolt and jerk-free

Thick tires

Appropriate braking system
Cons
Uncomfortable seat

Cheaper quality Cranks
The Dynacraft comes with a 17 inches steel frame, and the overall size is 24 inches. This full-suspension mountain bike comes with dual suspension, and it uses 18-speed Shimano derailleur with a Shimano grip shifter, and that is why it is no wonder that this has made it to the list of best full suspension mountain bikes under 500. 
Even though the grip shifters are from Shimano, still grip shifters are not the ideal type of shifters one would want for their road bikes. However, some mountain bike experts suggest using grip shifters on mountain bikes because of a few reasons.
Most of the time, grip shifters are a hassle because of its durability issues. Grip shifters are more likely to break, and chances of cable slipping are also high. These faults are not the faults of the manufacturers every time, but of the system these gears use. 
Even though in terms of speed, this bike is not that much, those Shimano components provide a sense of solidarity, stability, and risk-free ride to any mountain bike rider out there. 
The brakes used by this mountain bike are V-brakes for both front and rear end wheels. The best advantages of V brakes are that they are easily replaceable even on the move. This braking system proves to be less of a strain on the bike hubs or the spokes. 
Dynacraft Vertical Alpine Eagle 24″ Bike comes with an adjustable seat position making it highly flexible for young boys to take a comfortable ride on these bikes. With the quick-release seat post, this bike is one of the best budget full suspension mountain bikes of this list. 
Pros
V brakes for both front and rear ends

Adjustable seat post
The Vertical Gauntlet 24″ Bike is a clean looking full-suspension mountain bike which comes with deluxe paint finish, and it looks pretty amazing. 
The Vertical Gauntlet uses a Caliper braking system for both its front and rear wheels, and it is a significant disadvantage over the other bikes from this list in comparison. These Caliper braking systems are more likely to make your bike skid through even after full braking. The Caliper system often faults in wet conditions or on muddy/skiddy surfaces. 
This bike also uses a 21-speed Shimano index derailleurs, which allow the bike to move up the speedometer pretty quickly. Vertical Gauntlet 24″ Bike uses Shimano gear shifters as well, which implies that gear transitions are supposed to be at par quality with other more expensive bike variants. 
This bike comes with a 64.2 x 23.6 x 40.2 inches dimension, and the shipping weight is on the higher side of 47 pounds or 21 kilograms. Though this bike is little on the heavier side, if you have a preference for heavy-duty bikes, this one's a good option for you to purchase.
Pros
21-speed derailleurs

Caliper braking system 

Shimano gear shifter 
Cons
Non-functional derailleurs 

Heavyweight

Cheap quality
The reason for this bike to feature in the best budget full suspension mountain bike list is because of its price point. If you compare this full-suspension mountain bike with other bikes with a similar configuration, you can't help but notice the price difference. That is why it is remarkable as to how this company has managed to fit this bike within this price bracket.  
This full-suspension mountain bike comes with 3 spoke mag wheels that look beautiful on a bike. Mag alloy wheels are known to be softer and more pliable, and thus prove to be stronger in comparison to pure metals. 
So far as the braking system goes, this full-suspension bike beast comes with a pair of disk brakes. Disk brakes provide better control in muddy roads as it is more functional under wet conditions. More importantly, mountain bikes without a disk brake can prove to be dangerous. Disk brakes are more effective because of its larger surface area. 
This full-suspension mountain bike uses Shimano 21 speed shifters (Shimano EF-500) for extremely smooth gear shifting, and it also uses 27.5 inches tires for both front and rear. The front derailleur is Shimano TZ-30, whereas the rear one uses a Shimano TZ-50. 
This Eurobike comes with a 300 lbs weight capacity while its weight is 30 lbs, and that's the perfect weight for a full-suspension mountain bike. 
Pros
Perfect 30 lbs weight for carrying it up the stairs

Quality shifters 

Dual disk braking

Mag-alloy wheels

Very cost-effective 
Cons
Pedals quality

Grips quality

Suspension fork quality

Rear shocks quality
The reasons for this beast to feature on our list of best full suspension mountain bikes under 500. This bike uses a dual disk braking system for both its front and rear wheels, which provides for safe and secured rides off the road. Disk brakes are useful when it comes to off the road bike trips and muddy conditions. Disk brakes are more reliable because of their larger surface area because mud and grit can be less effective with larger surface areas on the brakes.  
The Gravity FSX comes with a hydroformed-aluminum frame, which adds strength to the bike, which swivels very less under pressure giving the riders a reliable and stable biking experience. 
This one also comes with Shimano Shifters (Shimano EF51 24 speed) for smooth gear shifting. The suspension, however, comes with an adjustability feature, which makes this bike a unique choice in this category. If you happen to purchase this bike, you will be able to raise and lower the bike's suspension, which is provided in the bike's shock absorber and front fork. With the suspension adjustability feature, you can play around with your bike's speed, seat height, how you feel when you bump into something, etc. 
This full-suspension mountain bike comes with double-wall rims, which makes the rim light-weight and durable at the same time. A double-wall rim provides the best weight to strength ratio. The tires are 26 inches thick for a good grip for both on and off-road routes. 
If you are around 5 ft. 2 inches to 5 ft. 6 inches, you should use the 15," and anything beyond 17 inches should be used by those who are at least 5 ft. 8 inches in height. 
Pros
Adjustable suspension

Double-wall rims

Thick tires

Dual disk braking system

Hydroformed aluminum frame
Cons
Seat is not comfortable
Handle bars grips are not good
The Schwinn S29 Men's Mountain Bike uses SR Suntour suspension forks, which means the shock absorption is of good enough quality. These suspension forks are of essential quality but are replaceable with better quality ones. This bike is made on an 18 inches frame with a suggested rider height ranging somewhere between 5 feet 9 inches to 6 feet tall. 
The 3.0 rear derailleur used by this bike is from SRAM, and gear-shifters are from SRAM too. Even though the common market opinion is to have gear shifters and derailleurs from Shimano, yet SRAM seems to be the second most popular brand when it comes to quality gears and derailleurs. The main difference between the two brands is that while Shimano works with a 1:1 tolerance ratio, SRAM seems to work on a 2:1 ratio.
Mechanical disk brakes are used for both front and rear ends. One of the things to keep in mind is that these are budget-friendly brakes. However, disk brakes, no matter how cheap they are, still provide better braking than caliper brakes. These are traditional disk brakes and are primarily for entry-level users or very young cyclists. 
This bike features 3-piece alloy cranks from Santour. As we discussed earlier, triple piece cranks are much better than single-piece cranks. However, here the brand seems to be specifically mentioned separately by the manufacturers. 
One of the favorites in this list of best full suspension mountain bikes under 500 is because of its lightweight and 29-inches thick wheels. One of the significant drawbacks of this bike is that because of its low pricing, the components used in this one are nearly not as good as others on this list. 
Pros
SRAM rear derailleur & gear shifter

Mechanical disk brakes 

3-piece alloy cranks

29-inches thick wheels

Lightweight
Cons
Uncomfortable saddles

Cheaper alternative components

Adjusting brakes are a problem

Replacement of the pedals
This mountaineer comes with a sturdy aluminum frame. In comparison to other choices in our list of a best budget full suspension mountain bike, it is slightly on the heavier side, i.e., 49.8 pounds.
However, not all of us are required to take their mountain bikes up to their rooms by climbing five fleets of stairs. If you are not required to lift your mountain bike daily, you are pretty much safe to buy this beast anyway. Even though most of the bike riders will probably be inclined to take a lighter weighted bike, personally speaking for us, it is not much of an issue.  
The Vertical Equator uses a 21-speed derailleur with twist-grip shifting, which allows the user to shift the gears, straight from the handle itself, just like in a motorcycle. Usually, 21-speed mountain bikes are generally less likely to get you all fatigued after a long journey. However, mastering the gear system might take some time if you are new to this.
This bike also uses a V braking system for both the front and the rear tires. A V-break or a linear-pull brake provides more power to stop a running bike than most of the other braking systems, which means this mountain bike is one of the safest on and off the road. A v-brake system is more comfortable to adjust in comparison to cantilever braking systems if you are one of those who like to tweak around a little bit for finer adjustments. This bike and its build quality ensure a safe and long journey. 
Pros
V braking system

Easy gear system 
Cons
Tires and rims quality

Gear shifters 
This 21-inch suspension mountain bike comes with an all-aluminum MTB frame. This bike is also the home to a floating beam suspension design that utilizes a suspension fork in the best manner possible. 
When it comes to the strength and durability of the wheel rims, the Kent KZ2600 aces it because the company has designed the rims with double-wall alloy. A double-wall alloy absorbs more shock and tension from the road, and it keeps the spoke lines safer, allowing them to bend if needed. The 36 spoke system in the wheel rims provide for its durability and overall strength too. With so many spokes, the added advantage remains is that if one or two is lost during your travel, your mountain bike is less likely to function any less optimized than it should be. 
This bike also uses 21-speed Shimano quick shifters and rear derailleurs for a seamless gear shifting experience. As we discussed earlier, a 21-speed twist shifter is more likely to make your gear shifts easy with smooth riding experience. Shimano 21-speed quick shifters are cheaper yet of excellent quality. 
One of the reasons for this to fit in the list of best full suspension mountain bikes under 500 is because it uses both disk brakes as well as linear-pull brakes. The front-wheel uses the disk brakes while the rear wheel uses the linear-pull braking system. Even though experts believe in the capabilities of disk brakes more than V-brakes having both of them at your disposal can never be a bad idea. 
Pros
Shimano quick shifters 

Floating beam suspension design

Double-wall alloy wheels with a 36 spoke rims 

Both disk brakes as well as linear brakes 
One of the prime reasons for it to make it to this list of best full suspension mountain bikes under 500 is because it is loaded with features that remain quite unmatched in comparison to others. One of the more prominent reasons for this is the use of components and materials for an assembled bike of a similar composition costs more. This company seems to have struck the right cord when it comes to mixing cost-effectiveness with adequate quality control.  
The Mongoose comes with 21-speed twist shifters with Shimano rear derailleurs for a smoother gear shifting experience. The best thing about the 21-speed twist shifter is that it allows your mountain bike to flow in the air if we talk about smoothness. Plus, the 21-speed twist shifters are also lighter and cheaper and less likely to be damaged if you crash. 
This all-aluminum suspension bike comes with a frontal suspension fork. All suspension forks take away the energy from big bumps and absorb it. But if you wish to be a little bit higher on the speed, you might prefer your suspension forks to be a bit more rigid than they usually are. 
This company has successfully used V-brakes or linear-pull brakes as they would instead put it. The V-braking system is potent and fat better than cantilever brakes in various aspects like adjustability and ease of replacements. 
This bike also uses alloy wheels, which, if you ask, are much more durable than other pure metals. Alloy rims usually provide for a more stable ride because it works in tandem with suspension perfectly by not letting the energy from rough roads enter your springs. 
The Mongoose uses a 3-piece crank and is way better than the one-piece cranks which other manufacturers use because of a few reasons. The most important of the reasons is that in a 3-piece crank, the materials used are better, and it proves to be a more robust input to the mountain bike. 
Pros
Frontal suspension fork 

V-brakes 

Alloy wheels 

T piece crank
Cons
Front-wheel, handlebars, pedals not assembled

Brakes and wheel alignment not perfect

Screws and nuts not tightened
This is a new downhill aluminum full suspension bike, which also provides for a frontal suspension fork. Frontal suspension fork means it is designed to tackle all the road bumps your off-road trips might have to offer. Schwinn Protocol comes with a steel rear triangle, which looks impressive. The frontal suspension fork helps in a reliable and sturdy journey for short term and long term travels. The frontal shock suspension forks, therefore, provides you a fatigue-free trip if you are traveling for a long time. 
The 24-speed Shimano EZ fire trigger shifters are helpful for smooth gear shifting when you are out for your off-road trips. This full-suspension mountain bike also uses the Shimano Altus rear derailleur, which means the shifters and the rear derailleurs belong from the same Japanese giant Shimano. With Shimano guarding both the front and the rear ends of your bike, you do not need to worry about reaching the desired amount of speeds for your "uphill" journeys. 
The Schwinn Protocol 1.0 Men's Mountain Bike uses a dual braking system. The front wheels use a disk braking system from Promax to stop, whereas the rear one uses the V-brakes or linear braking system. As we discussed earlier, dual braking systems can come in handy if any one of them stops working; the other one will not only save your day but may even save your life.
The Schwinn Protocol comes with 3-piece cranks and arrows back anodized double alloy wheels, which means your off-road and trailer rides will go smooth and jerk-free. The dual alloy wheels are there to absorb all the bumps allowing your hands and shoulders to remain open at the end of the bumpy ride. 
The 26-inches wheel rims coupled with full suspension will most definitely boost your confidence levels and provide you with a wholesome mountain bike riding experience when you are out for a ride. 
Pros
Frontal suspension fork

Suitable for Longer travels

Smooth gear shifting 

Use of both disk and linear braking systems
Cons
Poor quality components 

The cheap alternative brand used for crank arms
The Northwoods Full Suspension mountain bike comes with an aluminum frame with 50mm Steel Crown Fork and 26 inches of alloy rims. These 26 inches alloy rims would mean the natural height of the bike is also more substantial, and it will be more suitable for those who are naturally taller with their altitudes somewhere between 5 ft. 8 inches to above 6 ft. 
The product dimensions are 68 x 23 x 38 inches and weigh about 42 pounds or 19 kilograms when these are shipped. 
The 21-speed twist shifters provide the rider with smooth gear shifts as well as pretty high end in terms of its speed. This bike also uses a triple crank piece(or 3-piece cranks), and therefore, you can simply put the chain anywhere you like within the chainstay.
If you happen to use a mountain bike with a singular crank piece, then you are more likely to either get it replaced or get an update. That is why three-piece cranks are simply better because of the number of components used in it as well as the qualitative aspect. 
The Northwoods Aluminum Full Suspension Mountain Bike sports a Shimano rear derailleur. A good derailleur adjusts its position side by side so that the gear switching becomes more comfortable and smoother.  This bike is very light-weight and very easy to use as a mountain bike. Additionally, this bike is well known for its durability. 
Pros
Steel crown fork

Thick alloy rims

Three-piece cranks

Shimano derailleur 

Lightweight and Durable 
Cons
Plastic derailleur mount

Breakage of cassette

Plastic brake levers 
Buyer's Guide For Best Full Suspension Mountain Bikes Under 500
Full suspension bikes are normally more expensive to maintain than normal bikes because of the number of components used as well as the rough roads it usually encounters. Thus choosing the right mountain bike is very necessary. While buying a good mountain bike under your budget of 500, keep these following things in mind – 
Size and Height

Weight

Tires

Suspensions

Cranks and shifters 
Let's analyze each aspect of considering a good mountain bike before buying –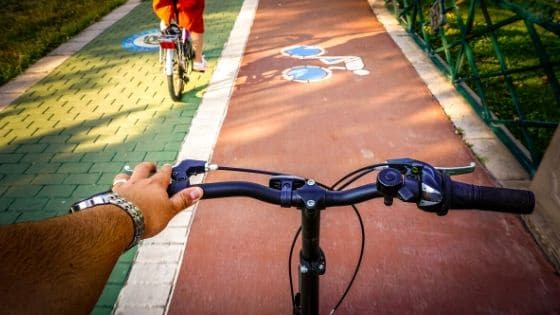 Size and Height
Choosing the appropriate size of a bike for yourself is the first thing you need to consider before buying. Not all mountain bikes come with adjustable seat positions and hence you should check out the bike size which suits your height perfectly.
Weight
Full suspension bikes are known for better traction, speed maintenance, and an unparalleled level of comfort while riding them. Being lightweight is not really the primary concern while buying a mountain bike. Thus, try to find a strong mountain bike with a decent weight to support you. On average, a good full suspension bike is supposed to weigh around 30 pounds or 13.6 kilograms.
Tires
Tires are the most important supporting structure of your mountain bike. It is the tires that help you ride a mountain bike smoothly on rough and uneven roads. The tire size should normally be somewhere between 27 inches to 29 inches for a better road grip and control over off-road routes.
Suspension
Suspensions are an important component of a mountain bike because, considering the uneven roads on which the mountain bikes are driven, you need good suspensions to support your bike. Suspensions are basically the system of springs and shock absorbers attached to the bike wheels. Every time you buy a full-suspension bike check the qualitative aspect of the suspension from the reviews given by former customers. 
Cranks and Shifters
Even though the derailleurs are important, do not forget about the importance of good cranksets and shifters. A good crankset or a chainset will ease your paddling movement through swift circular motions. Again, a good bike shifter or gear levers will help you change gears smoothly and help you ride your mountain bike effortlessly. 
Conclusion
Amidst all of this, do not forget the importance of riding safely. Keep your gears and crankset in good condition to increase the longevity of your mountain bike. Follow the link to know how you can take care of the gears for a faster mountain bike. 
Do not take those muddy trails and off-route gravels loosely. Always wear safety helmets and other protective gear to protect yourself from dangerous accidents.
One of the critical pieces of advice from us is before you purchase any one of the best full suspension mountain bikes under 500 is to check for quality tire tubes and brake linings before making your purchase and hitting the road.
Related Posts