One of the essentials of a modern-day lifestyle is to save time and be physically fit at the same time. Time management has become an important denominator in everyday life. We need to maintain our health and hygiene in tandem with our need to succeed in our careers.
A quick cardio session early in the morning within the precincts of your home is the best possible way to save time. We need not be Hercules for sure. But we do need some fitness levels to maintain a healthy life.
This is why we bring you this Schwinn 270 recumbent bike review to let you know how you can achieve fitness in about no time. Often we get out of our house to jog or to cycle so that we can keep our weight under a certain degree of control.
We cannot undermine the fact that it takes time to come back, get ready, and move on with daily responsibilities. Your daily responsibilities might even include preparing food, dropping your kids at school, and pushing off to your office. So, what if we tell you that you can get your cardio done on the Schwinn exercise bike 270?
What is this bike like?
Last update on 2022-05-16 / Affiliate links / Images from Amazon Product Advertising API
Let us now take a quick look at this bike's overall stand in the world of exercising. You would be surprised to hear that this is no ordinary workout bike that you have been witnessing for the better part of the last three decades. This new technology enables anyone to take a sit and start cycling without having to worry about sizes and what-not.
This recumbent bike comes with cool features like an LCD screen, USB charging points for your phones, and Bluetooth. This bike is a seating paradise and comes with a set of pre-loaded exercise routines programmed just for you.
How is the recumbent different than upright exercise bikes?
An important segment of this Schwinn 270 recumbent bike review is to let you understand the X factor. Exercise bikes usually burn the same amount of calories without being difficult in your joints.
If you live in a high storied building, you are in big trouble. Often you are not allowed to carry your bike on the elevator. You are then forced to run the bike up with you a few flights of stairs. It's quite hectic, isn't it? Exercise bikes solve that issue with ease.
Some people would argue that upright exercise bikes may burn more calories. But the seating of an upright bike is such that it may cause strains on your back and shoulders. You would not want that before you make it to your office.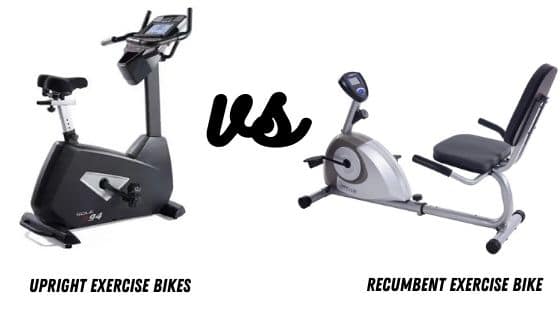 The 270 Schwinn recumbent bike provides you with a comfortable seating position for you to exercise longer and thus to have more impact than upright exercise bikes. Moreover, you can exercise while you are catching up on your favorite TV series on your phone or tablet. Additionally, you can read and watch the news. The sheer flexibility is what makes the recumbent stand apart from your ordinary exercise bikes.
The Recumbent bike has an easy-to-access seating position. There is no bar or a latch to get hold of before you set yourself in. The entire seat is open from all angles. It is easy to set yourself in and get yourself out.
This means that there is no ventilation problem at all. Moreover, the seat is posited reasonably lower than other exercise bikes. There is no chance for you to falter or get hurt. The most important thing the design of the seat is not like a regular bike's seat anymore.
It's a proper seat where you can simply sit and enjoy your morning routine. The seat is a cushioned paradise and has great lumbar support. You won't even have to worry about straining your backache while exercising on the Schwinn Recumbent.
Advantages & Disadvantages – Schwinn Recumbent Bike
The majority of the Schwinn 270 recumbent exercise bike reviews will be agreeable on one factor that this is a worthy investment towards your health. Let us now concentrate on a few crucial pointers to consider before you end up purchasing this bad boy.
Use of Modern Tech
The Schwinn recumbent comes with a Bluetooth-enabled setup. That means you can download the Schwinn Trainer app on your phone and connect it to the bike. In that way, you will be able to see all the requisite information related to your exercise on the LCD screen in front of you.
You will be able to monitor your fitness record, where you are posited, and how far you are from your goal. Moreover, you can connect to other apps wherefrom you can stay connected to your bike riding friends while exercising.
One of the coolest features of the Recumbent is that it provides for USB charging for your mobile devices, MP3 inputs, and in-built speakers enabling telephonic conversations.
Functionality & Specifications
There are 29 programs available on this bike, which provide for essentials that are required for use. You will be having the flexibility of having up to 12 profile workouts on this one. The Schwinn comes with 9 heart rate monitors and a room for building 4 custom profiles. You can also sit for the 2 fitness test programs enabled here.
Heart Rate Monitor
Let us break those features down further for greater clarification. You will be provided with preset workout modes so that you can simply click the one which suits your style and rhythm once you sit for your daily dose of exercise.
That is what the 12 profile workouts mean. Now heart rate monitors are there to make sure you understand and realize the general condition of your heart rate while exercising. If your heart rate is too high, it is a matter of concern. Whereas, if your heart rate is not upscaling sufficiently, it means you are not exercising at all.
In addition to the ease of use, you will also get to make 4 profiles, which can be custom-made just to fit different people. The option to customize-made profiles will let your family enjoy the benefits of the recumbent exercise with ease and precision. It is quite natural your elderly parents will not be going at the same speed as you would.
Power
You can use this Recumbent bike by merely plugging into the nearest wall socket with a 110 to 120V power outlet. There is no on and off button on this bike. So it's just 'plug and play.' There is a provision for 25 levels of resistance, which provides for an increasingly difficult level of exercising routines. Interestingly, the Recumbent is also loaded with features like a 3-speed fan, water bottle holder, a tablet holder, and a tray.
LCD Screen
The LCD screen will let you monitor a detailed view of your exercises and the effects of it on your body. The LCD is likely to display 13 informational feedbacks on your paddling and exercise. It will definitely show the time you have been exercising for the distance you have traveled while paddling, and it will also track the calories you have burnt. You can also connect your smartphone with this bike to see those results on apps like "MyFitnessPal."
One of the best functionality of the Recumbent is that it is oddly silent when it is used. Your family members don't need to know that you are working out. The flywheel used plays a vital role in this behalf.
Who Should Buy The Schwinn 270 Recumbent Bike?
Now the best part about the Schwinn Recumbent 270 is that everyone at your home will be able to use it. It does not matter what height your family members are or their weight. The Recumbent can take a load up to 136 kilos anyway!
The recumbent is most likely to suit those who have weaker joints on their legs and are unable to walk great lengths. This is one exercise that is suitable for healing leg injured players or older men and women.
Now that is not the only category of people this exercise bike caters to. Do not underestimate its power or reliability so far as training athletes are concerned. The Schwinn incumbent can take care of your entire fitness regime from that one seat.
The customizable programs and the power of having 25 resistance levels prove that it will be increasingly challenging to paddle as you move up the order. The higher your resistance level will be, the more top effort you will be required to put in for paddling. The resistance level works as if you are climbing up a slope on a mountain.
Moreover, our daily lives are guided by professional careers. We cannot lose important work hours, and we need to remain fit at the same time. The Schwinn recumbent works its charm around busy corporates and professionals who have a limited amount of time in their hands. Your days of giving excuses to miss out on gym classes are over.
Let us now summarise all that into a list of positives and negatives and see which way it swings.
Pros & Cons of Schwinn 270 Recumbent
Pros
Heart rate monitor
The flexibility of profile creation
LCD screen
Water bottle holder
3-speed fan
Bluetooth enabled
Easy app connectivity
Tablet holder
Trainer app
Open and Ventilated seating
25 hardness levels
Plug and play
300 pounds load capacity
Acoustic Speakers
MP3 input
And perimeter weighted flywheel
Cons
It weighs 86 pounds or 40 kilos
Heart rate monitor may malfunction
Frequently Asked Questions
Can I virtually travel places or tracks on the screen?
Yes, you can. You can unlock a few of those tracks by subscribing to the "Explore the world" app.
Why should I choose this variant over others?
The Schwinn recumbent 270 variant provides extra hardness levels for an upscale exercising routine. Moreover, features like a telemetry heart rate monitor, Bluetooth, backlit LCD screens and 29 pre-programmed workout routines are available in this model.
The Schwinn 230 recumbent model does not come with Bluetooth, and the Heart-rate monitor is touch-based instead of telemetry. Moreover, the number of resistance levels are lesser in the 230 variant.
Plus, you will be able to create and customize only two profiles with the 230 variant and not 4 as is available only in the 270 variant. The 230 variant uses GoalTracker as its main performance tracker, whereas the 270 variant uses Schwinn's Trainer App, which is much more customizable and adaptable to your needs. Lastly, there is no Ride Social Reality app on the 230 variant, so you will never get to experience the beautifully programmed trails.
How hard is it to assemble the Schwinn Recumbent 270?
There is a chance that you might feel that it is a two-person job to get it assembled. However, the instruction manual is convenient and easy to understand. It will take roughly an hour to 90 minutes for you to assemble it completely. The instruction manual is easy to understand, and you do not require any particular level of technical know-how to assemble this bike.
Conclusion
Our Schwinn 270 recumbent bike review fully supports the technological advancements that have happened in the field of fitness and wellness. In our modern-day lives, there is hardly any time left for us. We don't even get time to ride bikes with our favorite people anymore. With the Schwinn recumbent bike, you can simply hop on, enable your social app, and share the riding experience with your biking pals.
There is enough opportunity for you to lose weight, be fitter, and still have time for your work and family all at the same price. This is why the recumbent is making such an uproar in the health & fitness industry. You can finally tick off the monthly gym membership fees from your bank statement, where you hardly even turn up. The days of pointless excuses are over. Moreover, your knees and joints will work perfectly fine once you start cycling.
Read More