The global landscape of bicycle manufacturing has been evolving for the last two decades. The lines between bikes for men and bikes for women have been slowly reduced. Globally, bike manufacturers have been aiming to make unisex bikes designed for both men and women. However, this line of difference does exist and for some pretty solid reasons.
When we talk about women's bikes, we always prefer them to be lightweight, aesthetically designed, and ergonomic. Mountain bike riding was never limited to any specific gender because at the root of it lies a passion for thrill and undying love for scenic beauty. This is why we bring you a list of the best women's mountain bikes under 300 so that you can make an informed choice.
Also Check: Best Full Suspension Mountain Bike Under $1500
Best Women's Mountain Bike Under 300
1. Kent Pomona Women's Dual Suspension Comfort Bike
The 26-inch tires are an excellent fit for this delightfully ergonomic bike. The Kent Ponomo comes with 36 spoke alloy rims for perfect control over airflow even during faster speeds. The Pomona gives you customizable wheels too. This bike is designed specifically for women having all the essential as well as distinguishable features that are required in a feminine bicycle.
The Kent Pomona is a solidly built bike. It is affordable and lightweight, and that is why this bike sport is on our list of women's mountain bikes under 300. This mountain bike also has a full suspension mechanism, designed to provide you with a comfortable ride. This suspension system absorbs all the bumps that there can be on a mountain trail and off-road.
The frame is 26 inches in height and thereby designed to suit most women. The Pomona can also carry about 250 pounds or so. This bike has a micro shift 7-speed twister coupled with Shimano derailleurs. The seats are designed with anti-shock technology, which makes the journey evenly comfortable and fatigue-free. The Kent also sports a fully covered chin guard, dual linear-pull brakes, and a quick seat-post release button.
Pros
Adjustable seats
Shimano derailleurs
Dual suspension for great shock absorption
36 alloy wheel rims
Twist shifters for easy gear changes
2. Mongoose Status Mountain Bike for Men and Women
Sale
Mongoose Status 2.2 Womens Mountain Bike
Aluminum MTB frame with hydroformed tubing and a powerful front suspension fork is strong and reliable.
26-inch wheels fit riders 64 to 74 inches tall.
21-speeds shifters make for smooth gear changes on every ride.
Front and rear V-brakes ensure quick stops out on the trail.
Light, durable alloy rims and 26 x 2.125-Inch (diameter x width) tires roll over anything.
Last update on 2022-05-16 / Affiliate links / Images from Amazon Product Advertising API
The Mongoose comes with an all-aluminum MTB frame with hydroformed tubing, which makes this one a strong and sturdy bike. Moreover, it is equipped with a powerful front suspension fork, which makes your ride even smoother on bumps and off-road trails. The inclusion of the 21-speeds Shimano rear derailleur makes way for a mechanism that enables smooth gear changes and faster acceleration even going uphills.
There are dual v-brakes or linear-pull brakes which ensure quick haltings and enable control while downtrodden. Additionally, the inclusion of the lightweight, as well as durable alloy rims, make the Mongoose Status MTB one of the best starter bicycles for a woman. The knobby tires are 26 inches in diameter with a 2.125-inch width ensures smooth rolling over any surface. The handlebars are designed a bit raised so that you can sit up straight and paddle.
Read More: Best Cruiser Bikes For Women
Pros
V-brakes
Knobby tires
Shimano rear derailleur
Aluminum frame
Front suspension fork
3. Schwinn High Timber Youth and Adult Mountain Bike
Schwinn High Timber Youth and Adult Mountain Bike
Durable mountain bike designed for trails and neighborhood rides.
Alloy crank provides steady gearing and less maintenance.
Twist shifters with rear derailleur for quick gear changes on the trail.
All-terrain, wide knobby mountain tires sit on light and durable alloy wheels for added stability.
Quick release seat post makes for easy height adjustment.
Last update on 2022-05-16 / Affiliate links / Images from Amazon Product Advertising API
Schwinn has manufactured this bike, keeping in mind the intricate details a women's mountain bike must be having. With steel being the frame material of this mountain bike, it is safe to say it is a quality machine. However, it might be a little on the heavier side. Schwinn ensured a fatigue-free cycling experience by incorporating a frontal suspension fork for great shock absorption.
The Schwinn High Timber combines the use of 7-speed Shimano twist shifters with Shimano rear derailleurs. This means there will be a smooth gear shifting experience as well as speed acceleration on any angle. Your safety will be at the hands of dual linear-pull brakes or V brakes both at the front and rear parts of the bike. The Schwinn High Timber is designed lightweight as well as with aesthetic elegance. The inclusion of alloy wheel rims ensures rust-free longevity to your tires.
Pros
Shimano twist shifters
Shimano derailleurs
Alloy wheels
Front suspension fork
Cons
Chains are not correctly fitted
Derailleur might break
Improperly adjusted gears
4. Huffy Women's Trail Runner Mountain Bike
One of the primary reasons for the Huffy to be listed on this list of the best women's mountain bikes under 300 is because it comes with a dual-suspension frame. There is a suspension fork at the frontal part of this bike, and therefore, you are guaranteed to experience jerk-free bike riding. Moreover, Huffy is equipped with an 18-speed rear Shimano for great utmost control in varied terrain without any difficulty. The Huffy is equipped with soft Krayton grips, which are comfortable to twist for a swift cycling experience.
The ATB saddle or the seat post is stitched and is comfortable for sitting for longer journeys. There is a provision for linear-pull brakes and includes a 3-piece crank for quality riding performance. The alloy rims and ATB Resin pedals are icing on the cake.
Pros
ATB pedals and padded seat
Linear brakes
Shimano derailleurs
Krayton grips
Dual suspension
5.
Royce Union RMT Women's Mountain Bike
Royce Union RMT Women's Mountain Bike
The hardtail frame is molded from durable, no-rust aluminum, lighter than steel.
Easier to accelerate, easier to maintain momentum, and easier to handle.
All tools are included for fast assembly.
Zoom suspension fork delivers solid performance.
The complete Shimano 21-speed drivetrain delivers seamless shifting between gears as you adjust to your path.
27.5 inch wheels maintain rolling momentum.
Last update on 2022-05-16 / Affiliate links / Images from Amazon Product Advertising API
The Royce Union RMT is a hardtail MTB bike with a frame made of durable and rust-free aluminum. The use of aluminum makes it lightweight, which is thereby easier to accelerate, gain momentum, and handle under diverse circumstances.
The Royce Union RMT comes with a 15-inch frame and has a suggested minimum inseam of 25.25 inches. However, there is a 17-inch frame available as well, so that this bike remains available for a variety of human heights.
The Zoom suspension fork at the front delivers solid cover for all the bouncy tracks off-road trailer cycling may have in store. The twist-shift mechanism is completed with the inclusion of a Shimano 21-speed derailleur for seamless gear shifting and acceleration upon command. The padded saddle seat is an adjustable one so that you are comfortable with your seating completely. The 27.5-inch wheels aid the rider to win over all-terrains like on both gravel paths and for paved surfaces.
The alloy wheel rims are rust-free and strong. Moreover, you get a superior brake pad and linear-pull brakes or V-brakes to regularise speed and halt on command. The soft-to-touch Krayton grips and pedals are nice and gentle to operate.  All necessary tools are provided inside the package, but it does not come with a kickstand. All of these excellent features make the Royce Union RMT one of the best budget women's mountain bikes ever made.
Pros
Shimano derailleurs and twist shifters
Krayton grips and pedals
Seat height adjustment and frame size availability
Aluminum frame with alloy wheels are rust-free
V-brakes or Linear-Pull brakes
Cons
Difficulty in assembling parts
Poor quality stem bolt for handlebar
6. Shimano's Folding Mountain Bike for Men/Women
This full-suspension and foldable mountain bike are equipped with an aluminum frame made for utmost strength and durability. The three-spoke magnesium alloy wheels and the frame are both rust-free and durable.
The 21-speed Shimano shifters and derailleur makes sure that you don't have to compromise on speeds and acceleration. The large 26-inch wheel diameter ensures easy trading on smooth pavements as well as on gravel and mud.
The saddle provided here is padded, and the handlebar is slightly rising in nature, enabling you to sit straight up and be comfortable in your joyous mountain biking experience. The saddle or the seat post is also adjustable according to your height. Linear pull brakes and Crayton grips and pedals make this one a good buy.
Pros
Shimano shifters
Adjustable seat (padded)
Linear brakes
Aluminum frame
Magnesium alloy wheels
7. Youen Mountain Bike for Adult Men and Women
This mountain bike comes with a dual-suspension frame, which demonstrates that you will face no difficulty in riding your MTB on a rough surface. The suspension at the front and back will absorb all the ups and downs.
This bike comes with dual disk brakes, too, which means controlling speeds will not be a problem. So far as gaining acceleration is concerned, the Shimanos shifter and dual derailleurs will never disappoint you. In fact, riding on an upward inclined slope will be as easy it gets.
The frame is made of high carbon steel, so do not worry about strength. The magnesium alloy wheels are strong as well as durable.
Pros
Shimano shifters and derailleurs
Carbon steel frame
Dual disk brakes
Full suspension
Front fork
Best Women's Mountain Bike Under 300 - Buyer's Guide
All mountain bike compositions are easily distinguishable from bikes belonging to other cycling disciplines. Moreover, we are talking about mountain bikes specifically designed for women here. As we discussed earlier, companies engaged in manufacturing women's bikes nowadays are inclined to make them strong, lightweight, and economically viable too.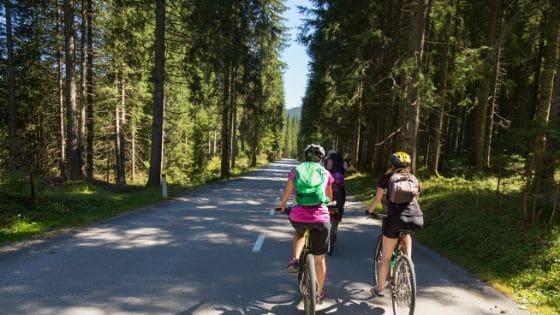 Let us now consider various parts of a women's mountain bike:
The Frame
Most women would prefer their mountain bike frame to be designed aesthetically. Not just that, one would say, a woman's mountain bike must be light as well. Mountain bikes should not be too light; otherwise, there are chances of tipping over and grievous injuries both to the bike as well as the rider. Ideally, chemical treatments of bike frames must make it rust-free, or the material itself must be such. Also, not every woman out there is 6 feet tall, so it will be wise to check out the frame size and your height and see which one suits you.
The Shifters and Derailleurs
The shifters in a mountain bike are very important as it lets you swiftly change gears while riding. Not always will you require equal speeds. The shifters and derailleurs usually work in tandem to give you a seamless acceleration and deceleration whenever you need them. It does not matter where you are driving, proper shifters and derailleurs can help you keep balance. A good pair of these can get you up the hill without worrying about the degree of the upward slope.
The Brakes
No matter how strong your bike is in terms of acceleration or body mass, you need reliable working brakes to be able to ride safely. With proper brakes, you will be able to control your speeds and immediate halting if you need one.
Mountain bikes must have functional brakes because you will need one when you are treading on rough trail surfaces.
Suspension System
There is no doubt that the mountain bikes must be having a proper suspension system to be able to withstand all the bumps on the mountainous roads. If there is no suspension system, your back and hands will ache when you are done with your cycling. The constant vibration cyclists face on their back, shoulders, and wrists are immaculate. With a proper suspension system, you will be able to enjoy your ride effortlessly. Your journey will be free from fatigue.
Adjustability
Women's mountain bikes must be adjustable from various parts. The detachability of multiple parts will ensure easy replacements plus cleaning. The flexible portions of the bikes must be easy, and it would ultimately grant a lot of much-required flexibilities once may have for a smoother biking experience.
Let us now consider a few of the most asked questions on women's mountain bikes -
FAQ's
What is the best frame material for a women's mountain bike?
Ideally speaking, you must be having a lightweight frame to facilitate proper strength to design ratio so that it is fast, reliable, durable as well as aesthetically pleasing. You can choose either a frame made of aluminum only, or you can also choose a frame made of carbon steel material.
Which shifter or derailleur is suitable for women's mountain bikes?
There are no two opinions about it. Shimano shifters and derailleurs are your answer. There are other manufacturers like the SRAM, but they are number two in our preference.
Which brakes should my women's mountain bike use?
Disk brakes will always be preferred over any other type of braking system. There is no danger of malfunctioning as in the case of linear-pull brakes when it comes to muddy areas.
What adjustable features should my women's mountain bike have?
The flexibility of having an adjustable seat post is one of the most important sectors of adjustability. Apart from this, we think that pedals must be detachable so that they can be changed according to preferences.
Which suspension system is ideal for my women's mountain bike?
There is no denying that the front suspension forks do their part of the job. However, for a mountain bike experience, women deserve a dual suspension system. Women would love a bike, which does not make them feel strained or fatigued at the end of the bike journey.
Conclusion
At the end of it all, we know that preference differs from person to person. However, the requirements of a good mountain bike for a woman are elucidated hereinbefore with detailed analysis. Even though the choice is left at your discretion, we have summed up our selection of the best women's mountain bike under 300 for your consideration.
Since the selection of bikes is considered for women, you should also consider factors that lead to a smooth mountain biking experience. Factors like padded seats and Crayton grips matter too for a softer and smoother feel. The high rising handlebars will keep her body straight and eventually fatigue-free. Do not forget to remember these aspects also while choosing a women's mountain bike.
Read More