You can find many brands out there in the market making affordable road bike wheels for everyone. Here are some of the best road bike wheels under 300.
A new set of wheels will be one of the best updates that can be done on your new or old bike. Different types of aftermarket wheels you select for your bike will have different advantages.
Riding experience can be enormously improved with a new wheelset and a lightweight and strong will reduce the total weight and provide more speed while on the ride.
Moreover, through this, you can improve the acceleration, handling, comfort, etc in your ride. However, you need to be careful when going for a new set of wheels for your bike. There are very expensive available.
But you can get all the comfort and premium feel at an affordable price too. Here this article contains some of the best wheels for your road bike under 300 dollars.
So, you don't have to worry about spending a lot of your money on wheels when there remain other updates to be made alongside the wheels.
Also Read: 11 Best Road Bike Wheels Under 500
Top 5 Best Road Bike Wheels Under 300 Dollars
These wheels listed under best road bike wheels under 300 from Vuelta, one of the well-known manufacturers for the best bike parts especially when it comes to wheels and axle parts.
Before describing the features, pros, and cons of the wheel, these wheels come in a price range under 300 dollars.
So, if you are looking for strong, functional, and sturdy wheels for your road bike within a budget line, then this will surely be your companion.
The black-colored wheelset comes in 700c size. Besides, the wheels come with sealed bearing hubs.
Even though there are advantages for the well-maintained loose bearings but with the sealed bearing, half of the maintenance headache will be reduced.
That is the main reason most of the bikes today use sealed bearing because it can keep out grit and moisture, otherwise, the balls and races will get rusted and destroyed.
Besides, the Aero stainless steel spokes used in the wheels offer aerodynamic advantages.
And it also can improve the life and strength of the wheel along with preventing the spoke from getting twisted.
CNC machined brake track provides accuracy in braking along its better surface finish is long-lasting and strong.
After all, the weight of the wheels is different as usual in which the front wheel has 873g and the back wheel is 1185g.
Pros
The sealed bearing will keep out the dust and moisture
Aero steel spokes give a more aerodynamic performance
CNC machined brake track is very strong and durable
Cons
Gets a little heavier when the tires are inserted
These wheels from the SunRise brand come with several premium features for the best performance and durability.
First of all, the wheels are made of Toray T700 carbon fiber which is best known for the strength, lightweight, and corrosion resistance of the material.
Moreover, the wheels are coming to your hands after passing all the EN quality standard tests that ensure product quality and performance.
The weight of the wheels is 1506g. That will increase when it includes 20g skewers on both wheels.
Two different options are available for these wheels based on Campagnolo Cassette and Shimano Cassette.
After all, you can also select the hub according to your wish which can be r36 or r39 or any of the hubs chosen by you.
Besides, a spacer is also available with the wheels as one package which may need to be used in some of the bikes.
This is the same wheel as superteam and it has a basalt braking surface on the rim.
It is not for you if you are looking towards using tubeless tires on your bike. These SunRise road bike wheels are clinchers.
Pros
The material used is very strong and lightweight
The product passes all EN quality tests before reaching your hands
Can be used with Shimano and Campagnolo Cassette
Has a basalt braking surface on the rim
Cons
Long rides make it kind of disposable
If you are looking for a simple-looking wheelset with good quality, then these Superteam wheels will be the best option for you.
First of all, the 23mm wheels are available in four different sizes including 38mm, 50mm, 60mm, and 88mm.
The material used for the making of the wheels is carbon fiber-Toray T700. It is well-known for its sturdiness and lightweight.
Besides, the product comes to your hands after passing all EN quality standard tests. So, as usual, the quality is an assured thing with these wheels.
After all, these wheels are a perfect fit for the Shimano cassette that comes with different speed preferences such as 8, 9, 10, and 11.
At last, the braking system suitable for these road bike wheels is the V-brake system.
The internal dimension of the rim is 23mm internal and it is 25mm external and it is a perfect and nice profile with 25c tires.
However, it cannot be used as a single-speed companion for your bike because it is designed to be with 9, 10, or 11 cassettes.
Both front and rear wheels come with hubs and are very solid to be used in any circumstances on the road.
Pros
Strong and lightweight carbon Fiber-Toray T700 material
The product passes all EN quality test
Stylish look with the matte black finish
The braking pad is strong and durable
Cons
The wheels are not suitable for single-speed
These are only perfect for Shimano cassettes
These wheels from CXD can be considered if you are looking for a hybrid wheel for your road bike under 300.
Both of the wheels are 700c and are best for disc brakes.
As mentioned, these are hybrid wheels that will offer a more cushioned ride when compared to the normal road bike wheels.
These wheels are capable to achieve greater speed because of less friction and both of the wheels will be the same size when it comes to hybrid.
Besides, the precision bearing hubs do their best job to keep the hub, tires, and wheel assemblies together.
And it provides friction-free movement and rotation of the hub assembly. Thereby you will have an amazing experience with the smooth tire and wheel rotation.
After all, the double-walled rims of the wheels provide more advantage against the single-walled rims. These are usually the best strength to weight ratio.
Freehub on these wheels can be removed and replaced with an 11 or 12mm Allen wrench.
However, it is important to note that these wheels are not for fixed cogs. But the wheels will work with cassettes or single-speed model conversions.
The diameter and the length of the wheels are 10mm and 130mm in the rear and 9mm alongside 100mm in the front.
Pros
Hybrid wheels will give a more lightweight feel and less friction
Double-walled rims provide more strength
Bearing Hubs are well built and precise
Cons
Not an option for fixed cogs
These wheels are another affordable aftermarket wheels available under 300 from Vuelta with many features.
700c wheelset is completely hand-built and is compatible with Shimano and SRAM cassettes of different speeds such as 8, 9, 10, or 11.
The material used in the making of the wheels is the 6061 alloy with CNC sides and the profile of the tire is 25mm.
Moreover, the spokes that are also special made of aero plain gauge C45 steel with brass nipples. And it also has lacing in the front.
That provides lower stress on the drive side and achieves a good spoke tension on the non-drive side of the bike.
When it comes to the hub of the wheelset, it is made in CNC machined road with cartridge bearing.
Cartridge bearing is different from regular bearings. It is constructed using silicon nitride alongside steel or HCC alloys with ceramic ball bearings.
It makes the hub lighter, smoother, and sturdy along with some advantages in speed and tolerances.
The weight of each pair of wheelset is 1745g and has alloy quick-release skewers and nylon rim strip alongside 8/9/10 speed spacer.
Pros
Compatible with Shimano and SRAM Cassettes
6061 alloy makes it lighter and strong
The spokes of the wheels have good aerodynamics
Lacing in the front makes the ride smoother
Cons
Cannot use disc brakes with these wheels
Buying Guide for Best Road Bike Wheels Under 300$
When selecting a new wheel for your bike, there are different things to consider before making your decision.
The list of those things you need to be considered includes size, construction, and intended use.
After all, there are things remaining like the affordability and the features and options available with each wheel.
You may be looking for a product that comes at an affordable price with good quality or you may be looking for the most expensive comes with the latest tech wonders.
Two different types of road bike riders are sportive and competitive riders.
For sportive riders, a wheelset with an aluminum alloy will do the magic and in the case of competitive riders, it is mostly about carbon fiber.
Construction of Road Bike Wheels
Construction of the wheels is done according to the things that can be done by using that.
There is that old boxy kind of rims that are still available at a very low price range and it is good to use when it comes to touring or leisure rides.
But if you need more aerodynamics or you are into sportive riding, then the latest deep-section aero rims are the one for you.
Other than these two normal wheels, there is another breed of wheels that will not include spokes to hold the wheel and they are the baton-type wheels.
They come in handy in circumstances that need more aerodynamics and include more straight-line rides.
Size of Road Bike Wheels
Wheels come in different sizes and two of the most commonly used sizes are 700c and 650c.
Along with these, the diameter of the rim also varies when it comes to the different sizes of tires you use.
Another thing considered in the size of the wheel is the rim depth. Deep section rims are used in the latest aerodynamic wheels.
Spokes of Road Bike Wheels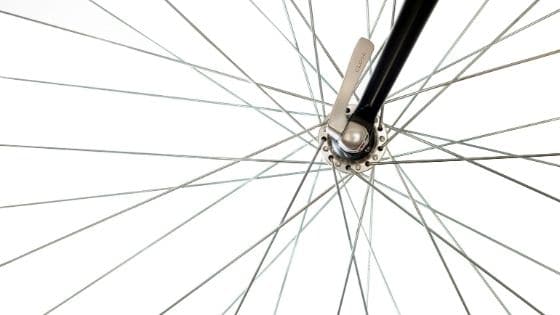 This is another thing that matters while selecting a new wheel. More spokes can hold more weight and are durable.
But there is a need to cut down the weight of the wheel to be used in the athletic fields.
So the companies design new model spokes that can reduce the number of spokes but can carry more weight.
For training or touring, it is always important to be strong and durable along with the lightweight character of the wheel.
Hubs and Rims of Road Bike Wheels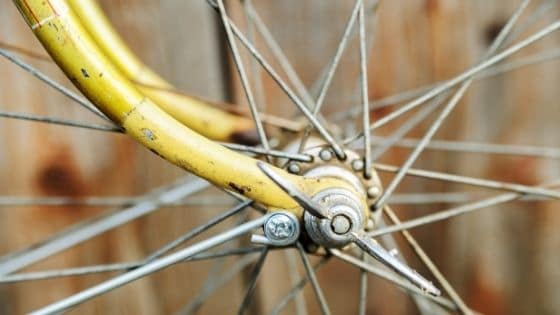 The whole wheel runs on the hub so there is no need to explain a hub anymore.
Brands make the latest models of the hub using new technology and materials for the competitive riders.
Now there are carbon fiber hubs that are lightweight, and super strong along with long-lasting ceramic bearings and super light axles.
Cross and deep are the two main types of rims that are available in the market. Cross-section models are the traditional ones.
They are also the cheapest in the market while the deep-section rims are expensive and are very aerodynamic.
After all, the disadvantage of the deep-section rims is that it can only be useful at its best in straight and perfectly flat circumstances.
All the improvements have advantages like performance and weight control along with its disadvantages.
So it is important to select the one for you after considering all the circumstances you will use your bike.
Over To You
This article listed a few of the best road bike wheels under 300 dollars. All the listed wheels are for you if you are looking for an affordable wheel for your bike.
You might get an idea about the wheel you need after reading the buying guide described above. Consider everything that explained in it.
After all, you have to consider that the wheels and tires are the first things that need to be perfect to get a comfortable and smooth ride on your bike.
So, if your bike is not much premium or expensive or your bike has cheap options available, then a wheel update can make a big difference in the performance.
The list includes products from different brands and all of them have different options and features. So, the first thing to do is finding out the type of tire you need to get the best out of your bike.
Related Posts