If you are into stunt riding, racing, or like off-road rides with a bicycle, you may be interested in these best BMX bikes under 200. This kind of sporty needs always did use BMX bikes. And there are big brands and highly expensive bikes out there in the market.
You may be confused with the whole different types of bikes you saw on the internet and afraid of spending a large amount of money as a starter. Is that the case? Then you can go for the less expensive BMX bikes that are available at a price range under 200.
As a beginner or as a person with a budget line in buying a new BMX bike, it is always important to give good research before you go for it. Here this article contains a few of the best BMX bikes under 200 available now in the market. Read and select according to your needs.
Also Read: 5 Best Women's Road Bikes Under 500
Top 5 Best BMX Bike Under 200$
Mongoose made a masterpiece with this race bike that also comes under the list of best BMX bikes under 200 dollars.
Besides, the brand made this bike available in different sizes that include Title Pro, Title Junior, Title Micro, and Title Pro XXL.
So you have a catalog to select according to your size and color wishes, which are two of the few things that make you confused when buying a new bike.
The bike is a worthy trophy bike when considering its features and options provided by the brand.
After all, the Tectonic T1 Aluminum used for the frame of the bike makes it lightweight and the integrated headset along with an internal cable routing.
Internal cable routing makes the bike free of cables going all over the bike and gives a clean look.
The 170mm 3-piece tubular chromo cranks with a 44T chainring that allow the rider to develop more speed. Besides, the bike has a euro cartridge bottom bracket.
When it comes to wheelset of the bike, it consists of two of the Arisen XLR8 20″ tires that are mounted on aluminum double-wall rims.
Moreover, it also has an aluminum ball bearing front hub and 16T cog freewheel rear hub.
Aluminum linear-pull brake with brake levers offers quality speed control.
And the Hi-Ten chromo handlebar and fork are joined by a 50mm stem and fixed bearing headset to consolidate for astounding controlling execution.
Pros
Lightweight and well build BMX bike
Available in all sizes
20-inch wheels give a good base
Linear Pull brake ensures stoping of the bike on point
Cons
The seat is fixed, so you cant change it according to your hight.
Kent International is well-known for its best quality bikes for all purposes. This Kent Pro is another one of them on the list.
The boy's freestyle BMX model bike is an entry-level bike that is well built and also affordable for anyone.
Besides, the frame and fork are made of tig-welded steel. That means the frame is a little heavier than the frames made of aluminum.
After all, many of the riders love little heavy bikes. And the 20" wheels with pegs keep your on-road at any rough circumstances of road.
Kent Pro comes with a dual brake system that includes front and rear handbrakes, which will make sure of your safety on the vigorous roads.
The alloy seat clamp will firmly clamp down to hold your seat on the place and prevent the post from rotating from the fixed direction.
Moreover, the freestyle rotor included in the bike allows the handlebars to rotate in a 360° without the brake cables get tangled up.
It is important to be free from the tangling cables while riding through rugged road textures or mountains.
This BMX bike from Kent International will be a better option for the beginner level cyclists.
Pros
The steel frame gives more base on the road with the weight
Alloy seat clamp will keep the seat on the place
The freestyle rotor will allow a 360° rotation of the handlebar
The pegs are removable
Cons
The frame is heavier than the aluminum frame.
This one is another good looking and functional BMX model bicycle from the Mongoose brand.
Moreover, the first thing to note about this bike is the vast range of options with the size and the color of the bike.
Available in about seven different models such as Legion L10, Legion L100, Legion L20, Legion L40, Legion L60, Legion L80, Legion L500.
Beyond all these size options, there is a vast range of color options such as black, blue, copper, green, grey, red, silver, teal, and white.
It offers everything that a beginning rider needs to hit the streets without any anxiety about the bike.
The sturdy L20 highlights a Hi-Ten steel body frame, removable brake mounts, and a 20.25-inch top cylinder length.
Besides, the L20's drivetrain highlights 170mm one-piece forged steel cranks with a 25T compound chainring and American loose ball base bracket.
The wheelset in the bike features two 20" x 2.3" tires that are mounted on single-wall aluminum 36H rims.
And it also comes with a 3/8 female axle front hub and 9T cog sealed bearing rear cassette hub.
Beyond all, aluminum U-brake and brake levers give accuracy speed control.
The Hi-Ten steel handlebar and fork are joined by a 50mm stem and threadless fixed integrated headset for most astounding directing execution.
Pros
A vast amount of options in size and color
Precision in the speed control with the U-brake system
The integrated headset gives full control over handling the bike
Cons
The brakes may get a little challenging to maintain
Single-wall rims are not stronger like double-walled rims
If you are looking for a BMX bike for your children and afraid of spending a big amount of money as a beginner, then this bike from RoyalBaby will help you with your need.
The bike is available in red and blue colors with a handful variety of options with the design and features.
It includes models such as '12 inch with training wheels', '14 inch with training wheels', '16 inch with kickstand and training wheels', '18 inch with kickstand'.
First of all, it is straightforward to assemble or dismantle the parts of this bike, so transportation will be very easy for you.
Besides, it comes with a caliper brake in the front and a band brake on the rear side of the bike.
And the wide 2.4" pneumatic tires altogether ensures safer riding with a safe grip.
The sturdy steel frame is a little heavier, so the bike will sit on the road while in the ride. Moreover, the crank, non-slip resin pedal, and the chainguard keep up with the frame.
Efficient braking is ensured, which is essential for your children's safety. Besides, the RoyalBaby sealed bearing gives a smooth ride on the rough roads.
Pros
Available in 4 different sizes with different features
The steel frame makes the bike strong
Well designed and different styles
More safety features for the children
Cons
The steel frame will be a little heavy.
This freestyle BMX bike from HH HILAND is one of the best looking BMX bikes that comes under an affordable price range.
Available in two colors, which are green and orange, with a Hiland Hi-Ten freestyle steel frame.
The steel frame used for the bike adds an efficient amount of weight to the bike and makes the ride strong and sturdy.
Besides, the 4 pegs used in the bike makes the ride more entertaining along with the 360° freestyle rotor.
360° freestyle rotor makes it easy to rotate the handlebar 360° rotation without any problems caused by the wires running around the frame of the bike.
After all, the double U-brakes used in the front and rear sides of the bike make your ride safe and guarantee comfort.
The 20.5-inch horizontal top tube length of the bike is ideal for boys, girls, or teenagers.
If you are looking for a good BMX bike with excellent built quality for your children as a gift, this one will surely come up to your needs.
Even though these bikes will not come up near to the features given by any of the premium and expensive BMX bikes in the market.
But with regular maintenance, this one can achieve all the basic needs as a beginner in the cycling field.
Pros
Solid, sturdy, and cool looking bike
Affordable price with all basic features
A dual U-brake system gives a safer ride
Cons
Will be a little heavier because of the steel used in the frame
Top 5 Best BMX Bikes Under 150$
Now here are some of the best BMX bikes for 150 dollars for you. We saw the top five of the BMX bikes that are available under the entry-level list and affordable with a price tag under 200 dollars.
If you are looking for a BMX bike that is available at a lesser price range than those bikes available under 200 dollars, then keep reading. You may not be ready to spend a big amount, or there are people out there who can't afford a 200 dollar bike.
They may be afraid of losing money on a beginner-level bike. However, it does not mean that they don't like these bikes.
People look for a BMX bike with different needs and aims. So, here is another list of BMX bikes that come under a price range of 150 dollars. Go through the bikes shown in the following part and select the one that seems perfect to your needs.
Best BMX Bikes Under 150
Checkout: Top 10 Best Mountain Bike Under 300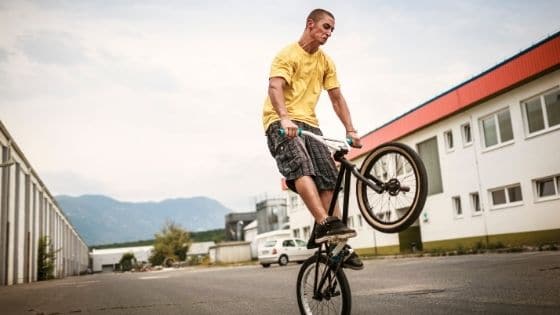 This BMX bike can be considered as one in the list of best BMX bikes under 150 dollars because of its built quality and features in this price range.
Manufactured by the well-known brand named Diamondback and are available in three colors, which are blue, cyan, and orange.
The Linear pull brakes used in the bike provides excellent stopping power and never need much of your money for the maintenance.
Besides, the coaster brake used in the bike's hub of the rear wheel will help you to slow down the bike in big slopes without the fear of breaking the brake pads.
And the bike comes with 140mm cranks and 36T chainring, which keeps smaller riders cranking with big kids.
Diamondback manufactures this model in two different versions according to its wheelbase.
The first one in the options is 20" wheels, and the other one is of 12" wheels. These knobby tires will stay planted during your off-road adventures.
And the rims are made of 36h aluminum, which is 30mm wide that comes with Complll style 20 x 1.75 tires.
After all, the bike is relatively solid in the build quality with the High-Tensile steel used in the frame and the fork and weights 251lbs.
Pros
High steel keeps the bike solid and sturdy
Good tire base to keep the bike on the track
Assembling and dismantling is very easy
Linear pull and coaster brakes will provide a safe ride
Cons
The cranks mechanism is a little week, so good maintenance is required.
This bike from Mongoose needs to be on your list when you consider buying a BMX bike under 150.
Availability in a vast range of colors and sizes itself makes it very special without even considering the stylish design it is made of.
It is one of those bikes that you will fall in love at first sight with the looks and the vibrant colors.
The colors this bike available include green, neon green, orange, red, silver, and the combination of white with pink or purple.
Besides, the different options available according to the size are Legion L18, Legion L16, Legion Lsx, and Legion Mag.
This bike is one of the first bikes that come with geometry and feel that most of today's riders prefer.
And the frame material used in the bike is Hi-Ten steel that gives a little weight to the bike.
American loose ball bearing bottom bracket along with a 130mm one-piece crank with a 25T alloy chainring.
When it comes to tires and alloy of the bike, this one comes with 16" x 2.3" tires that mounted on an aluminum single wall 28H rims with 3/8" in axle front hub.
And the rear one comes in 9T cog ball bearing cassette rear hub. After all, the Hi-Ten steel handlebar and fork, along with the aluminum U-brake, ensures safety.
Pros
U-brakes gives more control on the bike
The steel frame keeps the bike on the floor with a little weight
Durable with the Hi-Ten steel handlebar and fork
Cons
A 360-degree turn of the handlebar is not possible because of the brake cables.
This another model from Diamondback bicycles is made of the hi-tensile steel frame for the long-lasting and sturdy feel.
It comes in glossy black color with the steel frame. And the bike is very simple with the looks.
Besides, the fork of the bike is also from High Tensile steel to make it strong and provide safe handling.
After all, the single-speed drivetrain makes the bike reliable and straightforward for anyone, even if you are a beginner or an experienced rider.
The brake system used in the bike is linear-pull rear brakes, which makes it very easy when it comes to stopping at any circumstances.
Beyond everything, the brand that this bike comes from, which is Diamondback bicycles are well-known fr the well-built bikes.
And the brand is nostalgic and a great memory from their first bike rides. The simple and small parts make it very easy to carry it along with you anywhere.
The bike is measured up to more performance-oriented options, which means the little weight makes it easy for beginners to handle the bike with ease.
Besides, the height is best for the children, and it can be adjusted if you need more height.
Pros
Sturdy, Solid, and lightweight with the High Tensed steel
Adjustable height preferences
Comes with a chain cover as another safeguard for your child
Affordable and very easy mantle and dismantle
Cons
It only has one rear brake, and you need to have a little more control over the bike.
This Razor High Roller is one of the best BMX bikes from the Razor brand that comes with an affordable price tag.
Available in a variety of colors, including green, orange, yellow, and in a combination of green and black.
The features of the bike are pretty good in this price range, which is available, and that is under 150 dollars.
Strong high tensile steel used for the frame and fork is very sturdy, and the weight is an advantage for a beginner to control the bike from skidding on bad road conditions.
Pegs are available at the front, which provides a more stable platform for better bike control during stunts and tricks with your BMX bike.
Moreover, it has a 4 bolt stem that means your handlebar is safe and strong all the time with the support 4 individual bolts.
After all, the bike has hand brakes on both front and rear ends. So, controlling the speed and your movements will be easier than ever.
The Quick-release seat post allows you to remove or set your seat according to your need.
Moreover, it is very easy to assemble the parts, and maintenance cost is also significantly less when compared to other premium level bikes.
Pros
Excellent design and vibrant colors
Little weight of the frame makes it easy to control
The 20-inch wheel gives a good base on the floor
Front and Rear handbrakes ensure great safety
Chain cover to protect your legs and the chain altogether
Cons
A lot of plastic parts which are not durable
This Tony Hawk Jargon freestyle BMX bike is from the brand named Dynacraft, and they did a pretty good job with this bike.
Comes with pegs on both front and rear ends of the bike which are built into the frame of the bike and that gives confidence on tricks,
After all, the bike is available in three size options such as 20", 24", 24-inch. And the colors in which the bike is available is three in number.
Those three colors in the catalog include Jargon freestyle white, aftermath grey, and Park series freestyle matte black.
It is also rich with features when we come to that point that includes the custom tony hawk designs and graphics.
This is a freestyle bike with custom grips that comes with front and rear caliper brakes as any traditional bikes.
Moreover, the 48 spoke wheels would ensure the strength of the wheels and weight of the bike and rider through that.
If you are not fond of the designs and looks of the bike. It is also very simple and easy to remove the old stickers and add designs that you love.
Assembling and dismantling will not be a pain in your hand with this bike from Dynacraft.
Pros
Available n different sizes and designs
Front and rear pegs give more reasons to do safe tricks with the bike
48 spoke wheels would keep the weight from every side of the bike on the ground
Cons
Caliper breaks are not much safer when doing tricks with your bike
Buying Guide For Best BMX Bike Under 150-200 Dollars
BMX bikes are specially made in a way that can stand the stresses and hits that comes while doing any stunt or athletic activities.
So, selecting a BMX bike needs to be careful, which means you have to look after all the parts and materials used in the bike and its performance. Mostly this kind of bikes uses lightweight materials because these are made for speed and acceleration.
After all, they need to be stable, strong, and comfortable. First of all, look for a bike that accomplishes your need. Select your need from any of the disciplines available in the umbrella of BMX riding.
Different disciplines in BMX ride are Park, Street, Trails/Dirt Jumping, Race, and Flatland. In this, all modes other than flatland comes under freestyle. Considering all these facts, along with the built quality and the budget you can afford, go for the best in the market.
Parts
There are many small parts on a BMX bike which plays an important role. So, check for parts that resemble quality and durability. Moreover, the parts can make a big difference in your riding experience. If you choose the wrong parts then it will make your riding terrible which you don't want to happen. Now, this will help you to make your decision stronger.
Frames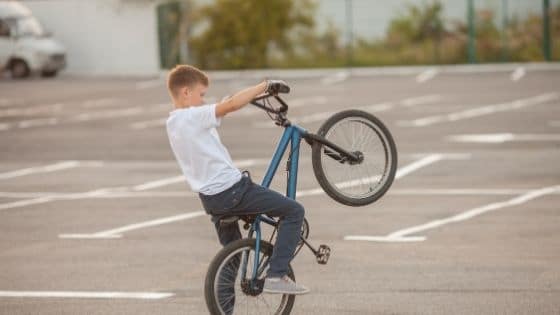 This is one of the features you don't want to ignore because the frame is a very crucial aspect. Mostly if you look at the bikes they are carbon fiber and also with aluminum frames. As we know that aluminum is the best material for the construction of a bike. However, the frame also depends on the type of riding you like it. There are three different varieties that BMX offers i.e street-freestyle, race, and cruiser.
Race Frames:  They are specially built for a racing track like in the Olympic style. Also, it is light in weight so the speed factor can be applied and gives the speed you want. However, they are not suited for any trick riding or stunt. Race Bmx bikes always aim to cover the distance in less time.
Street-Freestyle Frames: Here come frames for freestyle bikes which are defined for stunts. Ramp riding and jumping through the air over walls are a task which bikers love to do. Freestyle bikes have only back brakes and pegs for rail sliding. It depends on riders that how confidently they ride bikes while performing stunts. The material used in freestyle is steel so that bike does not become heavy and avoid crashes. Street Bikes frames are almost the same as freestyle but they don't have brakes. Although, the rider can spin with the help of handlebars.
Cruiser Frames: Cruiser BMX bikes have wheels of 24" wheels as compared to racing BMX which is 20". If any bike wheels above 24" is there that will be also counted as cruisers.
Sizing
The ideal size for a BMX bike is 20 inch but again it depends on kid's and adult's size. You can follow the chart given by manufacturers and select them accordingly. Different brands offer their own chart so follow that only. Also, make sure you choose the one from which you are comfortable enough to ride.
Wheels
You can choose wheels as per your stunt style and maneuvers. The freestyle bikes come in standard size i.e 20" wheels and for kids 16"-18". People who are into cruiser bikes the size of the wheels is 24".
Weight
If you are a regular rider then you can choose lightweight bikes. The material best for BMX is Chromoly, a metal alloy that is very strong and light in weight. However, heavy bikes are best for beginners to maintain stability.
Conclusion
This article showed you some of the best BMX bikes available in the market at an affordable price range.
Besides, the initial section of the articles includes the top five best BMX bikes under 200 and the second section listed the top five of the BMX bikes for 150 dollars.
Now the decision is in your hands. Remember, all these BMX bikes are entry-level models.
If you are a professional or if you can afford a little premium level bikes, then go for it because budget-level bikes can never compete with premium level bikes.
That includes every aspect of the bikes, such as built quality, parts, and safety features.
As a beginner level model, select any of the bikes from the list above after comparing it with your needs and the capacity of the rider.