Mountain biking is a world of fun. It can seem complicated to choose from the different types of mountain bikes in the market. The mountain bikes have evolved over the past forty years.
It is essential to select the best mountain bike in the market as it provides a safer and more thrilling experience. There are a ton of mountain bikes to choose from.
Trek and Specialized are the most popular brands. They produce the highest number of mountain bikes than other companies. Trek vs Specialized mountain bikes has a different feel and modulation. 
Choosing between a Trek vs Specialized mountain bikes can be confusing and challenging as they have almost the same features, price range, and even manufactured in the same factory. There are a few differences which will help to decide which one is better among the two. 
Both the specialized mountain bikes as well as Trek bikes offer various types of mountain bikes. You may also find a hardtail, electric bike, and full suspension bikes.
Comparison Between Trek Vs Specialized Mountain Bikes
Bikes of these two brands are very similar but have a few differences. However, any small difference can impact the feel, comfort, and performance of the mountain biker. Analyzing the differences between Specialized vs Trek mountain bikes will give a clear insight into what suits you the best.
It is tough for you to spot differences if you are a beginner. However, professionals will be able to understand the differences much better.
Customization in Trek vs Specialized
You can customize Trek mountain bikes according to your liking. One can design their mountain bike by selecting the fork, frame, and other parts of the bike. Specialized mountain bikes do not offer customization of the mountain bikes like the Trek brand.
Trek's Project one is the platform based on which Trek brand provides for customization. Project One allows you to choose from a wide range of road bike varieties like the Slique/Speed Concept, Madone, Emonda, and Domain. When it comes to Trek mountain bikes, Project one lets you choose from various options including but not limited to the Top Fuel and Procaliber/Fuel X. 
With Project one in place, you don't have to worry about colour choices anymore. You can select any colour you want. The motto of Project One is if you can imagine it, they can deliver on it. You can practically select each of the bike's components part by part.
Materials Used To Make Specialized Vs Trek Mountain Bikes
These two brands use the same type of materials for mountain bikes. The materials used depends on the cost of mountain bikes. 
Grips
Treks use a Bontrager Satellite Plus IsoZone as their handlebars and grips which is different for specialized bikes. This use of an ergonomic handlebar seems to put less exertion on the hands while cycling. The iso zone technology absorbs vibrations from the road and does not let you feel fatigued.
The specialized bikes provide for more steering control and are lightweight. The specialized bikes aim to hold the body steadily throughout the journey with their use of double-butted alloy grips.
Exterior frame
Treks use a Lightweight Alpha Gold Aluminium frame which simply goes with the overall structure very well. The frames from Trek looks like tubes and hence, they provide for weight management and strength.
On the other hand, specialized bikes boast of AI SL Premium Aluminium frames which strikes a perfect balance between efficiency/stability and durability/weight balance. All of these features come in hand in hand without compromising a bit on the level of comfort and performance it promises.
Spares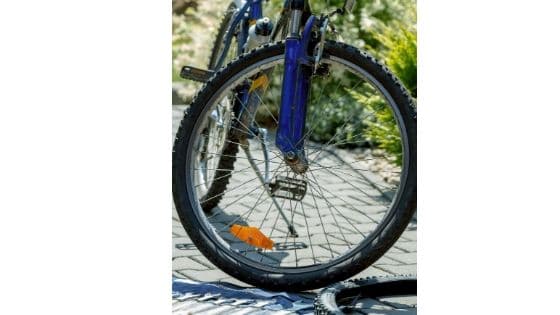 The parts and components used in the bikes are similar. Ordinarily, both these brands use high-quality spare components manufactured by giant multinational spare manufacturing companies like SRAM and Shimano. 
The Trek bikes provide for Shimano Acera shifters and Shimano MT-200 hydraulic dis brakes. Whereas, the specialized bikes use microSHIFT 9-speed shifters and hydraulic disc brakes like the Tektro HD-R310.
Rear Shock Absorption In Trek Vs Specialized Mountain Bikes
Suspension of the rear shock absorption of Specialized vs Trek mountain bikes varies hugely. Trek mountain bikes are equipped with Active Breaking Pivot (ABP) technology. This system enables the working of the rear suspension even while braking. 
This technology helps the mountain bikers to avoid accidental skidding. A shock mount called Full- Floater absorbs shock effectively in the Trek mountain bikes. These suspensions give a feeling of floating in the air rather than mountain biking.
Specialized mountain bikes are equipped with the Future shock rear technology. It is lightweight and made of spring. It helps the bike tires to stay intact with the frames. It helps the wheel to stop changing its shape with the changing terrain.
Experienced bikers say that the Trek mountain bikes provide more stability and shock absorption compared to the Specialized mountain bikes. This is because of the Full-Floater and Active Braking Pivot technologies. 
Varieties of Mountain Bikes
Trek offers a wide range of variety. There are different models of Trek martial bikes and Trek full suspension bikes along with various mountain bikes for women. Full suspension mountain bikes can handle the Risky trails, downhill, and uphill tracks efficiently. 
Specialized mountain bikes have different models which are suitable for a different type of trails. Few of them are ideal for dirt jumping free ride, terrains like sand, mud, or snow. 
Cost of Specialized vs Trek Mountain Bikes
The cost of both the Specialized and Trek mountain bikes are of a similar price range. The most popular Trek mountain bike, Marlin 4, is $470. The Pitch is the most famous mountain bike off a Specialized brand, and it costs $500.
Even though the entry-level pricing is almost similar, people, in general, are tilted towards using specialized mountain bikes. In specialized mountain bikes, you get better shifting and a provision for remote locking. On the other hand, trek mountain bikes tend to be a lot less precise. Some riders question the quality of the fork used in trek mountain bikes as well.
However, it is advisable that when you are deciding Trek vs specialized mountain bikes, you should test both on your own. Your preferences are better known to you, and you alone can decide which one is more suitable.
Full suspension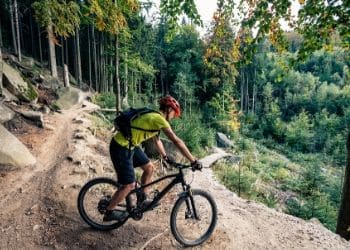 The cost of both the Trek and specialized mountain bikes may differ on the ground of provision for full suspension. The entry-level pricing with full suspension can range somewhere between $2000 to $10,000.
The reason for such a rise in price because of the use of specialized technology and expensive biking components. The extra expensive bike components tend to increase the pricing, and it ends up providing you with the best riding experience ever.
Hardtails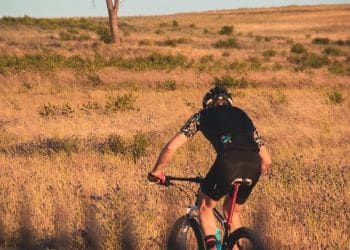 These bikes usually are manufactured, keeping in mind the cross country cycling discipline. The Chisel, The Rockhopper, the Epic Hardtail, and the Pitch belong to the hardtail range of specialized mountain bikes. Whereas, the Trek provides for five hardtails –  Stache, Procaliber, Marlin, Roscoe, and X-Caliber.
The primary difference is that the specialized range offers one upgrade while the Trek offers two top-notch bikes like Procaliber and the Stache. The specialized mountain bike facilitates an update from an aluminium cover to a carbon frame.
Conclusion
Everything comes down to user preferabilities. The heart wants what the heart wants. It is challenging to choose or pick one out of these two. Frequently, people prefer going for a trek, and sometimes they prefer specialized.
That is why to draw a winning conclusion in the war of Trek vs specialized mountain bikes is improbable. You cannot compare bikes with a huge difference in pricing. And if the pricing is similar, simply choose quality components over cheap ones.
When it comes to a pricing war for Trek vs specialized mountain bikes, it depends on the components used. You will always end up receiving what you pay for. That is why the more expensive these two bikes get, and the more parts will improve. Sometimes the pricing depends upon how much people connect with the brand. The pricing depends on the level of solid branding applied by a type of bike.
Related Posts